7.01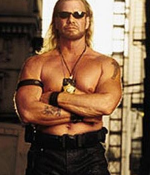 October 27, 2007
A&E's reality series Dog: The Bounty Hunter presents intersections of crime, religious faith, and branding.

The slacker heroes of Chuck and Psych may have more in common than would first appear.
The screen's ubiquitous presence in the modern world has transformed our lives from how we interact to the way we move. In this transformation have we all become sitting ducks?

Given the ubiquity of sports commentary on television, there must be some perceived purpose behind it. But what might that purpose be?
More in this category: