Volume 7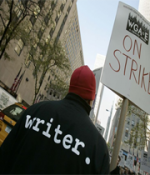 May 22, 2008
An introduction to this special issue of FlowTV.

How undergraduate film and television majors mitigated their own need to cross the picket line, or risk not graduating on time.

How the UnitedHollywood.com blog helped the WGA control the traditional-media narrative

Did fan organizing have any "real" bearing on the outcome of the WGA strike?
More in this category: