5.08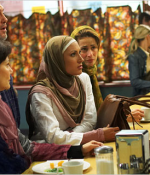 February 23, 2007
by: Michele Byers / Saint Mary's University

Little Mosque on the Prairie and a discussion of the success of the the CBC Canadian public broadcaster system.

by: Lynne Joyrich / Brown University
How does–or should–narrative television deal with issues of sexual violence? Lynne Joyrich considers the meaning of rape on Veronica Mars…and in our culture as a whole.

by: Stephen Groening / University of Minnesota
Towards Freedom Television and its complication of the binary "non-communication" vs. "symbolic exchange."

by: Judith Halberstam / University of Southern California
What draws American viewers to Desperate Housewives, a show about infidelity, teenage promiscuity, scandal, secrecy, murder and deceit?
More in this category: