5.06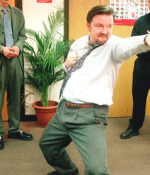 January 12, 2007
by: Stephen Harrington / Queensland University of Technology

The Office – What is all the fuss about? What is it that made the show so good in the first place?

by: Nichola Dobson / Independent Scholar

What are the implications for British broadcasting when news anchors become celebrities?

by: Chuck Tryon / Fayetteville State University

YouTube meets the Super Bowl as network television tries to negotiate "digital democracy."

by: Hector Amaya / Southwestern University

Are television viewers more receptive to aesthetic and narrative sophistication than film viewers?
More in this category: