Volume 5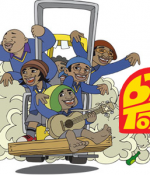 May 4, 2007
by: Ilana Gershon / Indiana University
The writers of Bro'town insist on a distinction between stereotypes used to reinforce historically and economically grounded inequalities and stereotypes used to indicate differences without consequences.

by: John Corner / University of Liverpool
What does the Royal Navy's recent hostage crisis in Iran say about television's involvement in the conduct of war and conflict?

by: Mary Beltrán / University of Wisconsin-Madison
These days it's a boon to star hopefuls not only to have an ethnically ambiguous look but to be open about their mixed heritage in their publicity.

by: Shanti Kumar / University of Texas-Austin
The Indian majority's non-response to the Gere-Shetty kiss indicates reinforces the notion that diverse cultures in India have known how to live with each other for centuries
More in this category: