Volume 3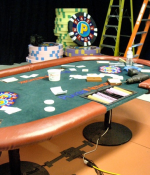 February 24, 2006
by: Mark Andrejevic / University of Iowa
Andrejevic considers the cultural logic of the recent surge in televised poker tourneys.

by: John McMurria / DePaul University
Television networks fearful of steep fines and consumer backlash rush to ensure decency standards are upheld. This article looks at indecency in myriad of ways, from the Superbowl pre-game and half-time shows to the funeral of Coretta Scott King.

by: Laurie Ouellette / Queens College, CUNY
ABC's programming shifts toward "do-good" reality shows. What can explain ABC's foray into the helping culture?

by: Jason Mittell / Middlebury College
What is television to a child who only knows TiVo?
More in this category: