17.01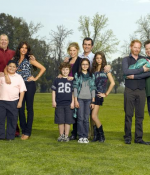 November 5, 2012
On Modern Family, Vergara's award-winning performance of Latina spitfire Gloria affirms the show's nostalgic representation of white masculinity, helping to soothe racial anxieties through a familiar figure of domestic Latina femininity. At the same time, Vergara's complex representation of Latina motherhood also provides a unique moment of visibility, creating a rupture in the show's narrative of white resentment.

An in depth look at the science of Haptics and touchscreens.
The Boondocks and Tyler Perry's universe.

A consideration of heteronormative trends in Disney's The Little Vampire.
More in this category: