16.06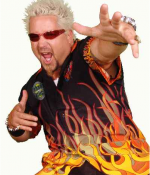 September 11, 2012
Irina Mihalache explores Guy Fieri's kitchen and demonstrates how the geography of the space and the objects in the kitchen transform a space for cooking into a space for play where even men with tattoos, 1960s red convertibles and electric guitars can feel at ease.

Black Hawk Hancock draws attention to the ways that direct-to-consumer advertisements (DCTA) work as mirrors to induce us to think about ourselves as bodies, as selves, as patients, and as consumers.

Digital diets, fasts, cleanses, and the politics of asceticism.

Here Comes Honey Boo Boo and the "white trash spectacle"