16.05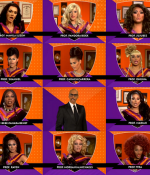 August 27, 2012
RuPaul's DragU, while rejecting normative and essentialist gender roles, exposes an "ideal" femininity that is framed in notions of masculinity and leaves us with only the charades of faux gender.

Mary Vanderlinden shares the results of her study on the influence of televisual portrayals of professional women on college-age African American women.
A consideration of post-racial America through the lens of The Hunger Games.

An exploration of the surprisingly conservative vision of Louis C.K.