13.07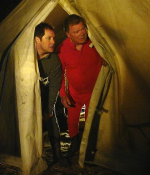 January 28, 2011
Marshall explores the homosocial "bromance" of Alan Shore and Denny Crane in "Boston Legal" leading up to the series' climax.

Coates waxes nostalgic as the punk bands who defined p

Bridget Conor examines the politics of transnational cultural labor in last fall's Hobbit dispute.

An exploration of audience response to satire and the "ridiculous" through a video about a banana.
More in this category: