12.01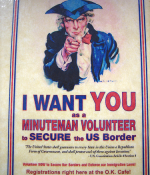 June 3, 2010
Analysis of the rise and fall of the border-patrolling Minutemen volunteers.

A consideration of how ABC's The Middle transgresses its working-class sitcom roots by re-positioning the blue-collar male.

An exploration of Showtime's Nurse Jackie as another entrant into the growing group of older female protagonists across both network and cable programming.

Recent Burmese video footage prompts the question: How do we preserve and document revolution?
More in this category: