Uncategorized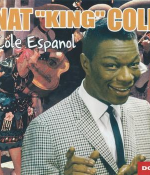 June 3, 2013
David Murray's reinterpretation of Nat King Cole prompts me to rehear The Nat King Cole Show, especially in the context of black televisual presence in today's digital platforms.

Nestle, Polo, and the collision of high-end fashion with low-end merchandise.

Irina Mihalache explores Guy Fieri's kitchen and demonstrates how the geography of the space and the objects in the kitchen transform a space for cooking into a space for play where even men with tattoos, 1960s red convertibles and electric guitars can feel at ease.
More in this category: