Lead Story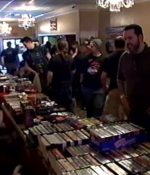 November 26, 2014
Dr. David Church provides an insightful glimpse into the world of VHS collectors.

A consideration of product placement and native advertising.

Avi Santo, one of the original founders of the Flow journal and Flow Conference, compares this year's "unconference" with past incarnations.

A look at the cover band Postmodern Jukebox and their relation to the music industry's latest trends.
More in this category: