Immigration in the News
Carolyn E. Brown / American University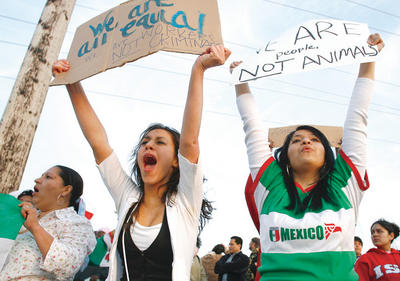 Immigration continues to be a hot topic in Spanish language news, but is rarely on English language networks.
I have always wondered why my mother chooses to watch Univision and Telemundo for her television news, despite speaking perfect English and living in the United States for nearly 50 years.
According to Nielsen ratings for August 2009, Univision television stations in top markets across the country scored first and second place ratings among young adults (18-49), Spanish or English language. 1 With the increasing ratings of Spanish-Language television news, and between 46-54 percent of Latinos living in bilingual homes in the United States, I decided to take a close look at Spanish-language national news and its English-language counterparts to better understand the preferences of bilingual Latinos in the United States. 2
What I found is that the growing Latino population may choose Spanish-language television network news over English-language network news based more on the appeal of the content than on language. A new study by the Project for Excellence in Journalism and the Pew Hispanic Center found that from February to August 2009, only a small number (57 out of 34,452) of news stories, actually focused directly on the lives of Latinos in the U.S. 3
As a case study, I specifically wanted to see how the networks covered one important issue: immigration. After analyzing newscasts for most of October 2009 and online video stories for the entire year, I found that not only is immigration reporting more abundant on Spanish-language television, but also that how and which immigration stories are told is very different.
During a time period when English-language network news focused on the Colorado "balloon boy" and swine flu, Spanish-language network news reported daily and in-depth on immigration issues. I first watched three weeks of national weekday newscasts in October 2009. I analyzed the evening newscasts on Telemundo, Univision, NBC Nightly News, CBS Evening News, ABC World News, Fox News Channel's Fox Report, and CNN's Anderson Cooper 360.
That the Spanish-language networks ran more immigration stories was not a surprise, but the disparity when compared to the English-language networks was. Telemundo logged the highest number of immigration stories with 48 news reports. Univision ran 26 immigration stories during that same period. The English-language newscasts each logged one or two immigration stories in the same 3-week period. There were also a wider variety of stories related to immigration and immigrants on Telemundo and Univision. I broke the stories down into 5 categories: immigration enforcement, immigration policy or reform, crimes against immigrants, immigration human interest, and immigration Census stories.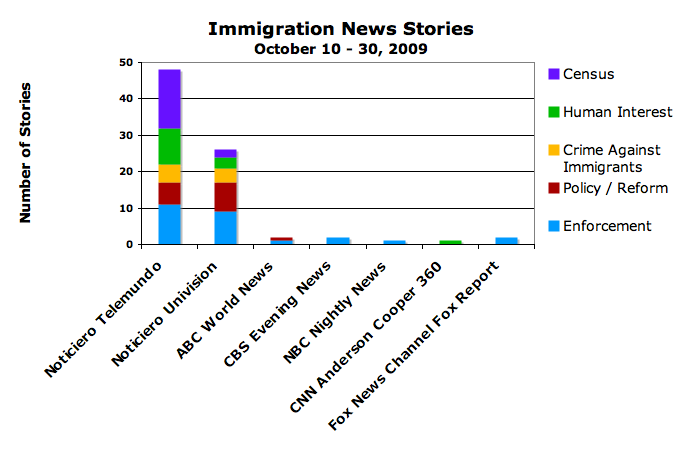 Immigration Coverage Graph
Together, Telemundo and Univision ran 18 census stories. There was nothing census-related on the network news in October, and very few census video news stories on the websites of ABC, NBC/MSNBC, CBS, CNN and Fox News Channel in 2009. Stories about immigration enforcement were the most common type of immigration-related news stories on the Spanish-language and English-language networks. But, on the Spanish-language networks there was also a focus on educating the viewers. Many of the Census stories were about informing the audience of the upcoming census and the importance of being counted.
As for the English-language networks, during the three-week time period in October, ABC, CBS, FOX each ran two immigration-related stories, while CNN and NBC ran only one story each. Nearly all of these stories focused on a Mexican drug cartel bust by the Drug Enforcement Agency. Because of the limitations of recording broadcast television, and the few immigration stories I found on English-language network news, I also decided to look at online video-only stories on English television network websites (ABC, CBS, NBC/MSNBC, CNN, FOX), for the entire year of 2009.
On the English-language news websites I found very few video stories about immigration. The ones I did identify were about illegal immigration and enforcement, despite the fact that only about one-quarter of Hispanic adults living in the United States are actually undocumented immigrants. 4 On the Spanish-language news websites I found an assortment of different immigration related news stories falling within the same patterns as the categories depicted on the graph above.
For comparison, I specifically looked at one story repeatedly covered by both Spanish- and English-language television websites. I analyzed all the video news stories about the ongoing controversy over Phoenix area Sheriff Joe Arpaio, who is criticized for what some consider to be racial profiling in the arrests of undocumented immigrants. The self-proclaimed "toughest sheriff in the country" was interviewed on both CNN and Fox News Channel in October 2009, and had sound bites in Telemundo and Univision reports.
In Fox News Channel interviews with Arpaio, the anchors have a very different tone compared to the other networks. Fox and Friends host Steve Doocy laughs at Arpaio's choice to ignore the Federal Government and continue making arrests. Doocy asks, "Do you think you are going to end up being called to the principals office for that?"
[youtube]http://www.youtube.com/watch?v=LvUprW8SKdo [/youtube]
CNN's Rick Sanchez, who immigrated to the United States from Cuba as a child, had a very different approach in his interview segment with Arpaio, asking tougher questions. Sanchez says, "How do you know, when you arrest someone, that they are illegal?" After Arpaio explains how he can tell if someone is undocumented, Sanchez responds, "You judge people and arrest them based on their speech and their clothes that they are wearing, sir?"
[youtube]http://www.youtube.com/watch?v=6cVkHNVtRQE [/youtube]
While the English language networks primarily covered the most sensational aspects of controversy surrounding Arpaio, the Spanish-language networks were much more in depth and covered Arpaio's role in the broader immigration debate. For example, one story on Univision focused on how different cities are implementing section 287G of the Immigration and Nationality Act in comparison to Arpaio in Phoenix. In the case of Telemundo, news anchor Pedro Sevcec offered his opinion at the end of a news report on Arpaio. Sevcec says he hopes that Arpaio can spend his time going after real criminals and not innocent people who are just trying to live a better life, without hurting anyone.
[youtube]http://www.youtube.com/watch?v=uPCt1l4pMEY [/youtube]
Latino journalists in Spanish-language media have traditionally had prominent roles within the Latino community that go beyond the traditional role of English-language reporters. The Latino reporters often serve as mediators and advocates between their audience and the dominant society. Despite anchoring for an English-language network (CNN), as a Latino journalist Sanchez assumes this role in his interview with Arpaio. Pedro Sevece, the Telemundo anchor, and the reporters who cover Arpaio for both Telemundo and Univision, teeter between objectivity and advocacy. This unresolved tension —between trying to maintain neutrality and serve their communities— is a defining issue for Latino journalists. Clearly, this tension affects how immigration stories, such as those on Arpaio, are covered.
The content and approach of Spanish-language news is unique and necessary in our current political moment, where borders are increasingly sites of contestation and conflict. Ultimately, my mother and the millions of immigrants like her living in the United States are drawn to Spanish-language media, not only because of the language of delivery, but because of the stronger focus on stories of immigration and the Latino experience in the United States. About 45 million and growing, our Latinos living within U.S. borders will make an increasingly significant impact on our cultural and civic life and their stories are worth being told.
Image Credits:
1. Immigration Protesters
2. Immigration Coverage Graph (created by author)
Please feel free to comment.