Who's Going to Play Michelle Obama?: Saturday Night Live and Its Lack of Women of Color
Phillip Lamarr Cunningham / Bowling Green State University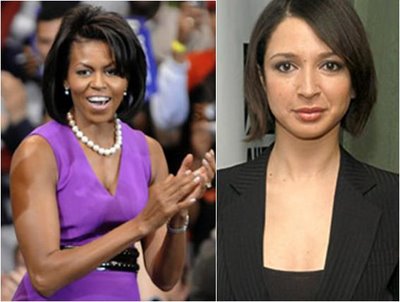 Michelle Obama and Maya Rudolph
Since Chevy Chase played a bumbling President Gerald Ford, send-ups of the American president have been an important part of Saturday Night Live's repertoire. Over the course of SNL's thirty-four seasons, skits parodying the president have become more prominent and, in fact, often lead off the show. Furthermore, with few exceptions, SNL has had little difficulty finding a member of its ensemble who actually resembles (and sounds like) the president whom he portrayed. The same also can be said of the former First Ladies, particularly Hillary Clinton, who has been impersonated by former cast-members Jan Hooks (who also portrayed Nancy Reagan), Janeane Garofalo, Ana Gasteyer, Rachel Dratch, and Amy Poehler.1 In fact, since the 1980s, SNL has been quite successful at casting dead ringers for each president and First Lady.
However, the election of Barack Obama, the nation's first president of color, has proven rather problematic for SNL. SNL currently features only two cast-members of color—Fred Armisen, who portrays Obama, and Kenan Thompson. Unlike Obama, Armisen is not of African descent; however, he was chosen over Thompson, whose darker complexion and stout physique admittedly would make him a less-than-convincing Obama.2 Armisen's casting met with some controversy, with some television critics lamenting the show's decision to cast an actor with no discernible African heritage as Obama, whose father was Kenyan and whose mother was of European descent.3 However, much of these criticisms seemingly have assuaged—though Entertainment Weekly's Michael Slezak recently declared, "It's time to replace Fred Armisen as Barack Obama."4
Slezak also notes, "Fred Armisen's impersonation of President Barack Obama… [is] like a neon sign pointing to the lack of diversity in SNL's cast." However, more indicting of SNL's lackluster commitment to cast diversity has been its inability or refusal to cultivate female cast-members of color. To its credit, SNL has been the launch pad for prominent black actor/comedians such as Eddie Murphy, Damon Wayans, Chris Rock, and Tracy Morgan.5 However, SNL has shown virtually no commitment to female comedians of color, having only employed three black women (Ellen Cleghorne, Yvonne Hudson, and Danitra Vance) and one biracial woman (Maya Rudolph) in its thirty-four years. Of the four, only Cleghorne (1991-1995) and Rudolph (1999-2007) were featured prominently, as both Hudson (1980-1981) and Vance (1985-1986) lasted only one season and typically played marginal roles. Furthermore, unlike other SNL female alumni, none of these performers have had other vehicles developed for them by executive producer Lorne Michaels or NBC.6 The absence of women of color on SNL is particularly striking considering the prominence of women of color comedians/comedic actresses such as Margaret Cho, Jackie Guerra, Regina Hall, Wanda Sykes, and Aisha Tyler as well as the recent success of comedic showcases such as The Queens of Comedy (2001) and The Original Latin Divas of Comedy (2007). Furthermore, given how well MADtv—the only real challenger to SNL's Saturday night dominance—embraced diversity, SNL's poor attempts to do so are all the more troubling.7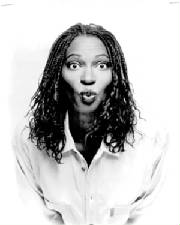 Ellen Cleghorne
The show's tarnished track record with women of color essentially hit critical mass early in the 2008-2009 season in the casting of First Lady Michelle Obama, who is of African-American descent. Currently, SNL has no women of color on cast. The last woman of color performer was Maya Rudolph, the biracial daughter of African-American R&B singer Minnie Riperton and Jewish songwriter Richard Rudolph.8 Prior to her portrayal of Michelle Obama on October 25, 2008, Rudolph had resigned from SNL and last appeared as a regular cast-member on November 3, 2007. During her tenure on SNL, Rudolph impersonated celebrities of virtually every racial background, ranging from Beyonce to Lucy Liu to Jennifer Lopez to Barbara Streisand. In many instances, the fair-skinned, freckled Rudolph bore a close resemblance to those celebrities whom she impersonated. However, a few of the roles she played by default of being SNL's only woman of color, and in several instances, namely as darker-skinned African-American celebrities such as Oprah Winfrey and Patti Labelle, she was less than convincing (at least in terms of appearance).
Despite her departure from SNL and her bearing virtually no resemblance to Michelle Obama, Maya Rudolph was brought back on October 25, 2008, to impersonate the current First Lady. The skit required little from Rudolph: In lampooning Barack Obama's half-hour campaign commercial, she and Armisen (as Barack Obama) briefly sang "Solid as Barack," a parody of the hit Ashford & Simpson song "Solid as a Rock." However, the decision to bring back Rudolph speaks volumes about SNL's commitment to diversity: Instead of hiring an African-American female cast-member, who might be of great use given Michelle Obama will be First Lady for at least the next four years and given her prominence in the media, SNL chose to utilize a former cast-member whose similarities to Michelle Obama are dubious at best.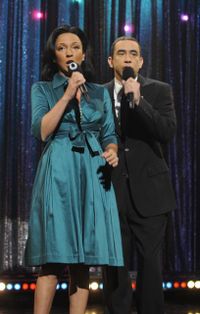 Maya Rudolph and Fred Armisen
Rudolph was not the only former SNL cast-member to return during the presidential campaigns. Rudolph's portrayal of Michelle Obama went virtually unnoticed given the great attention paid to Tina Fey's impersonation of Republican vice presidential nominee Sarah Palin.9 Fey's impersonation of Palin was critically acclaimed and deservedly so: Her resemblance to and portrayal of Palin was exemplary. However, whereas SNL had four other cast members who could have played Palin (albeit perhaps not as effectively as Fey), no other cast-member reasonably could have played Michelle Obama.10 SNL either would have to rely on a special guest star (as was the case with Rudolph), to feature Kenan Thompson in drag (which SNL has done in several instances), or to let a cast-member perform the role in blackface (which SNL also has done on occasion).11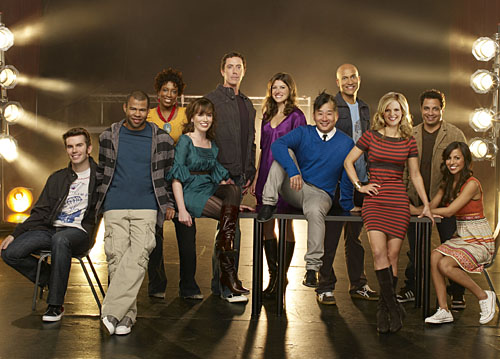 MadTV's Final Cast
The intent here is not to cast dispersions on Maya Rudolph's capabilities as an actress or even to criticize her impersonation of Michelle Obama (though, admittedly, her portrayal came across more as Maya Rudolph as Whitney Houston as Michelle Obama). One must concede that impersonation is not exact replication; furthermore, as scholars such as E. Patrick Johnson and David Eng have theorized, race (as well as gender) has a performative quality. As such, the aim here also is not to question whether a biracial actress can or should play an African-American woman, for to do so would be an exercise in essentialism (as well as futility). Rather, the goal here is to interrogate SNL's commitment to cast diversity by indicating how the show historically has marginalized women of color. Though it may not have been its intent, SNL's casting of Maya Rudolph as Michelle Obama—particularly when considering its precedent of casting actors who greatly resemble each president and First Lady—speaks more to what little progress SNL has made in terms of hiring women of color than to Rudolph's ability to impersonate. Given SNL's centrality in political discourse and in popular culture, its failure to embrace more racial and gender diversity perhaps does not threaten the show's relevance, but it undoubtedly undermines it.
Image Credits:
1. Michelle Obama and Maya Rudolph
2. Ellen Cleghorne
3. Maya Rudolph and Fred Armisen
4. MadTV's Final Cast
Please feel free to comment.