Facebook and the Return of the Repressed, or Watching Political Comedy on a Social Network
Ethan Thompson / Texas A&M – Corpus Christi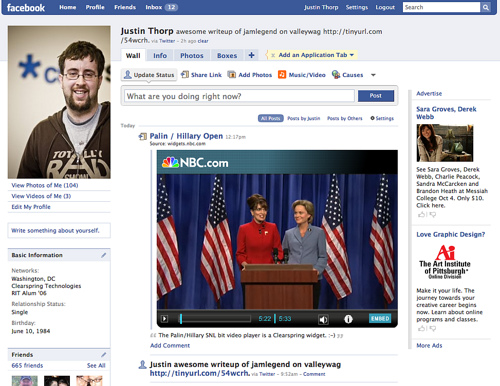 The Political is Personal
Judging by increased mainstream news attention and, more importantly, my own friend list, the 2008 holiday season marked a tipping point for Facebook, the "Target" of social networks to MySpace's "WalMart."1 My millennial undergraduates were the first to bring Facebook to my attention, of course, and when I signed up I soon found many of my TV studies comrades. While the "out of the past" section of my friend list grew slowly over the last couple of years with the addition of old friends, it has in the last couple of months seriously snowballed to include many more I'm happy to reconnect with, and others that I hadn't thought much about since I last saw them wandering the beige hallways of my alma mater.2 I speculate this tipping point was brought about by scenes reminiscent of a Harold Pinter play:
A living-room in a seaside town. Two old friends, Mitch and Tim, sit blankly in front of a television set. Mitch gets up silently and sits down at a computer. Tim continues staring at the TV.
Tim: What are you doing?
Mitch: I'm going on Facebook.
Silence.
Tim: Isn't that for high school kids?
Silence.
Mitch: No.
Silence.
Tim: Really?
Mitch: (defensively) No, actually.
Several days later, Tim signs up on Facebook and soon embarrassing old pictures of Mitch (or me) start showing up on the Internet for the viewing pleasure of current friends and colleagues. All that is perfectly fine with me; what I am interested in discussing here is how such shifts in social networks affect the circulation and consumption of political comedy via the posting of links and videos. If Tim posts a video of Tina Fey caricaturing Sarah Palin on SNL, for example, does it means something different to Mitch than if he had watched it live on TV himself, or if he had sought it out himself on Hulu.com? Are Mitch and Tim more or less likely to talk about such content? Or is Mitch going to take this as an opportunity to sever ties with Tim for good?
For those of us interested in how comedy can articulate cultural criticisms when people have their guard down, the posting of videos on social networks like Facebook demands special attention. To borrow the language of Stuart Hall's "Encoding/Decoding," posting videos on a network "structures the polysemy" of political comedy by impacting the content of the comedy or comic performance itself, and, more importantly, by framing the "decoding" or consumption of the post in a more personal way. One of the oft-made promises of new media has been to get what you want, when you want it: "personalized" media tailored to your tastes and desires. What you instead get via your friends' Facebook posts is "personal" media because it is posted on your network "feed" by people you know. It is not targeted to you as an individual. Rather, it is there for you because someone else is your friend. Social network posting is a different kind of distribution that is limited not so much by institutional control or technological limitations, but by which people you allow in your network and whose posts you continue to allow to be published in your feed.
[youtube]http://www.youtube.com/watch?v=bdnTr84Anc4[/youtube]
That's What Friends Are For…Posting Shaggy Dog Videos
Certain Payoff? The editing-down of TV content for posting necessarily abbreviates video to the most desirable parts. When you are watching a posted video, you do so with the understanding that unnecessary material has been taken out, and that there is a definite payoff before the time runs out. Our anticipation of payoff does not only have to do with tighter joke-telling economics through better editing, but because we know a friend bothered to post it. Such a video is not there because it's the "least objectionable" thing a friend happened to come across, but because he or she thought there was something notably amusing about it. Consequently, we watch more attentively, knowing all along how much longer the video has to play till the payoff. We look closely for it, determined that it's there if we just stick things out. The "shaggy dog" joke that draws out the anticipation of a punchline without ever providing it, is thus more cruelly performed via Facebook post.
Post and Response. The ease with which you can immediately post a video and share it with your network of friends is one of the best parts of Facebook not just because posting is so simple, but because it's so easy for others to comment and form a conversation. Posting is about sharing; viewing and commenting go hand-in-hand and this is facilitated by the site's design. For political comedy to have wider effects upon how people think, individuals need to talk with one another about what they see and what they think about it. I would have loved to have been trading issues of Mad Magazine with friends back in the 1950s, when it took on everything on early TV from Disneyland to the Army-McCarthy hearings. However, I much prefer not to have to wait until all my friends have borrowed my magazine and passed it from one another before we can talk about it.3 Nowadays, if I miss an episode of The Daily Show, I know for certain that one of my friends will post any particularly striking segment.4
As the Facebook network expands backwards, though, what gets posted is more often not suited to my current cultural and political tastes. Because of this, there is something a little unexpected about this personal media network: rather than being a homogeneous community for sharing and consuming media culture suited to your tastes, a Facebook network is as diverse as you allow it to be, and the social dynamics of including past friends may help avoid the "echo-chamber" potential of online communities. Sharing material culture like magazines is easily limited to one's immediate peer group. Even topics of water-cooler conversation are easily edited according to those who gather round.
[youtube]http://www.youtube.com/watch?v=tdaLCcPHZE0[/youtube]
Thank You For Being a Friend…Who Obsesses about Politics and The Golden Girls
The 2008 holiday season also marked the final lame-duck death throes of Bush 44. Facebook's streamlining of its posting process occurred more or less as the 2008 presidential campaign was winding up during the fall. I don't think it's a stretch to suggest that this fall marked a highpoint for the distribution and discussion of political comedy. The popularity of Tina Fey's Sarah Palin caricature was the most prominent example. But there were many more originated on web-TV than adapted from broadcast or cable networks. Some of that material was undoubtedly racist or sexist and therefore offensive regardless of whether one was liberal or conservative, Republican or Democrat. However, satire by definition has a point of view, and therefore posting it inevitably grates against the political sensibilities of some of your friends, and posting a satiric video may draw a response directly in proportion to their political sentiments. Whether those responses are treated as opportunities to engage and exchange ideas, or to "unfriend" and make one's network more ideologically homogeneous, is a matter of individual taste.
This seems a rich area for audience study. To what extent do individuals edit their friend lists when people post videos they perceive as incompatible with their own politics? Do they talk about such things through commenting, or cut to the chase and "un-friend"? Pursuing such questions will be important to assessing the changing cultural role of political comedy as its distribution flourishes through social networks like Facebook.
Image Credits:
1. The Political is Personal
2. Front Page Image
Please feel free to comment.