10 Years Younger: The Women Deemed 'Too Old' For TV
Lisa W. Kelly/ University of Glasgow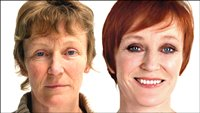 Melanie Smith's before and after in the fifth season of 10 Years Younger
As 2008 drew to a close, I read with interest that the 37-year-old TV presenter and fashion stylist Nicky Hambleton-Jones was being replaced as the host of 10 Years Younger, a Channel 4 makeover show that she had fronted for five years. Stepping into her designer shoes, as it were, would be Myleene Klass, a former reality show contestant who has not only become ubiquitous on British TV screens over the past year or so, partly due to her obvious good looks and seemingly warm personality, but who is also, at the tender age of thirty, seven years younger than Hambleton-Jones herself. As was reported in the British press at the time, this decision appeared to echo the sentiment of the overall series, which is that youthful good looks are of utmost importance in today's society.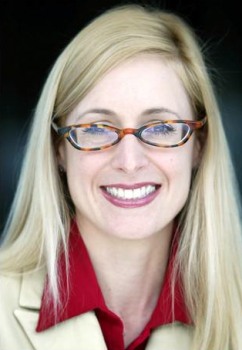 Nicky Hambleton-Jones, former host of 10 Years Younger
For those not familiar with the programme, each episode of 10 Years Younger follows a team of experts (made up of the aforementioned fashion stylist, along with a cosmetic dentist, hairdresser, make-up artist, and surgeon if necessary) as they set out to take ten years off the perceived age of the chosen participants. While the reveal at the end of each show focuses on how the women who take part (and the occasional man) now feel more confident in the way they look, there is an underlying assumption that both their personal and professional lives will be more fulfilling and successful as a result of their revamped outward appearance. This is something that Laurie Ouellette and James Hay have discussed in their study of reality TV and its relationship to the neoliberal rationality of privatization, volunteerism, entrepreneurialism, and personal responsibility. Examining the proliferation of makeover shows such as this in which an emphasis is placed on 'self-fashioning as a form of self-enterprising,'1 Ouellette and Hay suggest that the 'impetus to signify youth is a cultural dimension of the current stage of "flexible capitalism."'2 Drawing on the work of Richard Sennett, amongst others, they explain how in a employment market in which jobs for life are no longer available, youth is prized because it is associated with workers who have flexible mind-sets, are open to change, and who are willing to continually take risks. Ultimately, then, the suggestion is that by acquiring a younger-looking face and fashionable clothes, it is more likely that women, in particular, will get ahead not only in their love lives but also within their chosen field of work (although it will be interesting to see if these qualities continue to be desired if the current economic situation persists).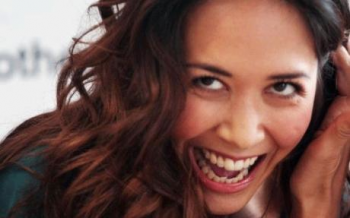 Myleene Klass, new host of 10 Years Younger
What this means, however, with regards to the decision to replace Hambleton-Jones with a younger presenter on the show that she fronted from its inception, is that while reality TV programming advocates self-fashioning as a way to success and happiness for female viewers, the television industry itself does not buy into this. Rather than being given the same opportunity as the programme's participants to revamp her own personal look or indeed the format of the series (and I am dismissing for the moment the problematic nature of this approach), Hambleton-Jones was simply replaced by a younger model; and indeed one that does not possess similar experience within the fashion and beauty industry, except as the face of several advertising campaigns. As the presenter herself has stated "It does seem to me like a classic case of replacing any woman over 35, regardless of how suitable she is for the role, with a younger face."3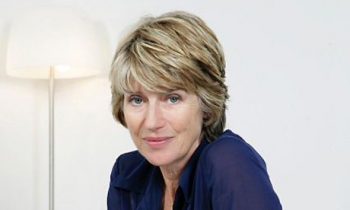 Selina Scott successfully sued Channel Five for age discrimination
This, of course, is nothing new. Within British news and current affairs programming in particular, there are several sixty-something men still commanding a position of authority on screen while their female counterparts have long disappeared to be replaced by younger women. In the most recent example, the respected broadcaster Selina Scott, aged 57, was being lined up as maternity replacement for Five's news anchor Natasha Kaplinsky only to be subsequently overlooked in favour of a presenter almost thirty years her junior. She went on to successfully sue the broadcaster for age discrimination, a move that will perhaps make television executives think twice about making similar decisions in future, although this does seem to be extremely unlikely. As Anna Ford, another 'mature' newsreader, has pointed out, not only has her attractiveness constantly been referred to throughout her career, in a way that would not be the case for men, but she was also routinely passed over for jobs until she eventually felt as though she had no choice but to leave the industry.4 Thus, it seems that women in television are still judged primarily according to their age and appearance.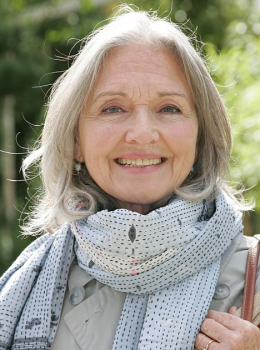 Anna Ford felt compelled to leave the television industry
I do feel, however, that there is also something else going on here with regards to women's routes into the broadcasting industry and the proliferation of lifestyle and reality programming. While not to be so naive as to think that it is purely so-called 'expert' knowledge that sees women such as Hambleton-Jones appear on our screens telling us how to eat, dress, and behave correctly (after all, presenters, experts, and judges also have to be in possession of a certain television presence in order to be successful), it is becoming increasingly the case that the only knowledge or experience that is required in the lifestyle/light entertainment arena is that of appearing on television itself. For example, despite the achievements of Sharon Osbourne as a music manager and promoter, it was only after the success of her family's MTV reality show, The Osbournes, that she was asked by Simon Cowell to become a judge on The X Factor. After reportedly having a fraught relationship with new, younger judge Dannii Minogue, who joined the series in 2007, Osbourne left to be replaced by the pop singer Cheryl Cole, herself only 25 years old and no stranger to reality talent contests, having won Popstars: The Rivals in 2002.5 Similarly, Myleene Klass is another graduate of the Popstars series who also went on to take part in I'm a Celebrity . . . Get Me Out of Here! in 2006, eventually finishing in second place. It was this second appearance on a reality show that secured Klass's position within the television industry, leading to her presenting numerous programmes over the last few years (from Last Choir Standing and Miss Naked Beauty to, of course, the upcoming new series of 10 Years Younger).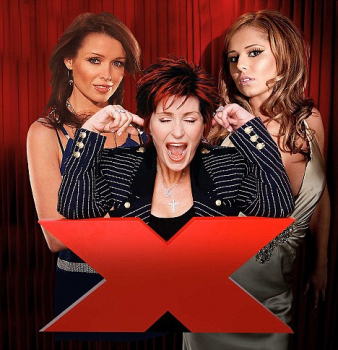 Dannii Minogue, Sharon Osbourne, and Cheryl Cole fight it out on The X Factor
What these women have achieved, then, is not necessarily expert knowledge in a particular field (although Klass is herself a classically trained pianist), but the goodwill and support of the television viewing public who have consistently tuned in to watch or vote for them appearing as 'themselves' on a variety of reality programming; not to mention also submitting themselves to a series of 'tests,' such as demonstrating the ability to dance in order to become part of a pop group or the capacity to eat insects and grubs in the Australian jungle while wearing a bikini. The television industry seems to need this vindication from the public before placing women (young or old, although increasingly on the youthful side) in high-profile television roles. This leaves us with two questions then. First is whether there is a real possibility that women over a certain age will disappear from our screens altogether (except when in dramatic character) to be replaced by younger, shinier, and more polished versions, and second, which reality show will Nicky Hambleton-Jones sign up for first. After all, if she wants to retain her television career, then it looks like she'll have to prove her worth in the Big Brother house sometime soon.
Image Credits:
1. Melanie Smith's before and after in the fifth season of 10 Years Younger
2. Nicky Hambleton-Jones, former host of 10 Years Younger
3. Myleene Klass, new host of 10 Years Younger
4. Selina Scott successfully sued Channel Five for age discrimination
5. Anna Ford felt compelled to leave the television industry

6. Dannii Minogue, Sharon Osbourne, and Cheryl Cole fight it out on The X Factor
Please feel free to comment.