Silence is Golden: Erasing Gay Olympic Champion Matthew Mitcham
Alexander Cho / FLOW Staff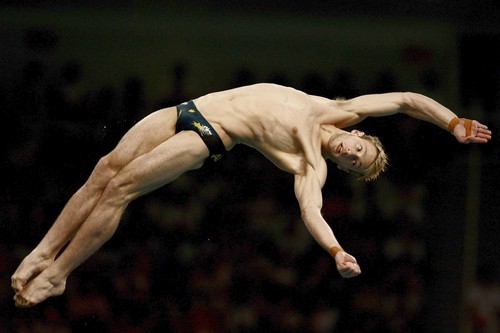 Matthew Mitcham in the 10-meter platform final
Let's play a game of probability for a moment. Let's cast back to a time just before this summer's Beijing Olympics and wonder who might answer the following question in the affirmative: Have you ever heard of Australian diver Matthew Mitcham?
Certainly, Australians might answer "yes" more often than, say, Americans. Perhaps gay Australians might answer "yes" more often than straight Australians, since Mitcham made waves coming out as gay in an interview with the Sydney Morning Herald on May 24, 2008—and we gays tend latch on to our out celebrities. In fact, American gay and lesbian newsmagazine The Advocate ran a cover story with Mitcham just in time for the Olympics, so we might also say that American gays and lesbians might be more familiar with Mitcham than straight Americans.
Let's get really specific now: I'd wager that NBC diving commentators Ted Robinson and Cynthia Potter were familiar with Mitcham, as were the handful of news producers responsible for NBC's extensive Olympic coverage. He was, after all, probably the highest-profile Australian male diver at the games.
I'd wager that they were also familiar with the fact that he is gay—in fact, the only out gay male athlete at the Beijing games—and that he has a pretty dramatic story: Young diving phenom, groomed from an early age to join the elite ranks of the sport, takes a year off to find himself, combat depression, and, well, be a teenager. Then he makes a comeback earlier this year, snatching gold at one of the international diving community's highest-profile meets. After qualifying for the Australian Olympic team, his family has trouble scraping together money to send his partner, Lachlan, and his mother to be with him in Beijing. American company Johnson & Johnson steps in, awarding a $5,000 grant to send Lachlan to Beijing—the first ever given to a same-sex partner through their Athlete Support Program. Sydney's gay and lesbian community bands together to raise funds to have Mitcham's mother join him.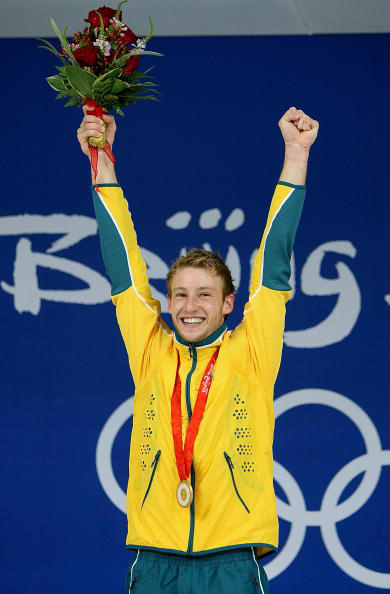 What we didn't see: Mitcham on the podium
The point of this probability exercise? Where one falls in the terrain of discourse around certain topics is a function of, among other things, particular identity categories. Conversely, those identity categories also shape the way information is controlled. No real surprise, I hope—but necessary to point out, because of what followed after the men's 10-meter platform finals.
Mitcham performed the highest-scoring dive in the history of the Olympics, a back two-and-a-half somersault with two-and-a-half twists, receiving four perfect 10's. His score on this dive, 112.10, propelled him past Chinese diver Zhou Luxin to give him the gold medal, upsetting a Chinese men's and women's diving gold medal sweep. As the stunned crowd realized what had happened, Mitcham burst into tears, head in hands.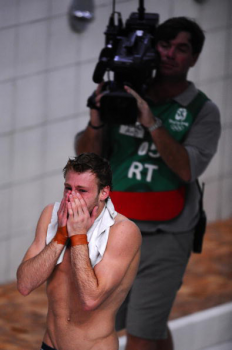 Mitcham after learning he won the gold
Then, as if it never happened, we never saw the medal ceremony. (NBC relegated it to its web site.) We never saw a reaction shot from Mitcham's partner after his final dive, and we never saw him run into the stands after receiving his medal to give Lachlan a hug and kiss.
And that was the last we heard. Until members of the gay blogosphere started wondering why such a dramatic upset received so little coverage. Clearly, there were no Americans on the podium, and it's no secret that NBC doesn't think that makes for good TV. But then we started wondering why NBC commentators Robinson and Potter never even mentioned the historic fact that Mitcham was the only openly gay male athlete at these games, especially after his epic final dive clinched the gold. Or why they never showed Lachlan's reaction in the crowd, as we are used to with so many other (straight) athletes.
NBC was not present at the impromptu press conference Mitcham gave—on what seems like a Beijing sidewalk—standing next to his mother and Lachlan, thanking them both, and even giving Lachlan a nuzzle or two. This evasion was not solely a symptom of American indifference; the Australian Broadcasting Corporation houses a clip of a different press conference on its web site—shot seemingly at the same time on the same Beijing sidewalk—but without Mitcham's mother and partner by his side.
[youtube]http://www.youtube.com/watch?v=yWxX8OdZ2Tg[/youtube]
Bloggers from AfterElton.com, a gay entertainment blog, managed to get a hold of an NBC spokesperson regarding both the omission of the medal ceremony and the erasure of Mitcham's sexuality. Here's what he had to say:
"In virtually every case, we don't discuss an athlete's sexual orientation…Not every athlete has a personal discussion. I could show you 500 athletes we didn't show. We don't show everyone. We don't show every ceremony."
Bloggers were quick to point out that the sexual orientation of many, many athletes gets "discussed" all the time by NBC as part of its normative, heterocentric discourse: a tabloid-fueled love triangle between Italian and French swimmers; the spotlighting of track-and-field athlete Sanya Richards' fiancé. And what about that incessant footage of Olympic officials combing the sand at the beach volleyball courts searching for Kerri Walsh's lost wedding ring? Never mind, also, that other major print and web news outlets managed to tastefully mention the historic nature of Mitcham's sexual orientation at these games without eclipsing the story of his win.
Days later, NBC Olympics president Gary Zenkel issued this terse apology:
"We regret that we missed the opportunity to tell Matthew Mitcham's story. We apologize for this unintentional omission."
I'd like to borrow a concept from Haitian-born historian Michel-Rolph Trouillot at this point. As he wonders why the Haitian revolution has all but disappeared from the annals of history, he proposes the idea that, to the writers of history, the possibility of black slaves organizing and staging a successful rebellion was "unthinkable." Key to explaining this is what he calls "formulas of erasure":
"What we are observing here is archival power at its strongest, the power to define what is and what is not a serious object of research, and therefore, of mention."1
Serious object of mention, indeed. Taking Trouillot out of a historiographical context and applying him to the shaping of contemporary media—and knowing what we know NBC and its commentators knew at the time of Mitcham's win—we might replace the word "unintentional" in Zenkel's apology with the word "unthinkable." That an openly gay elite athlete would win gold at his sport's most important competition? Unthinkable. That he would be a comfortably openly gay elite athlete, to boot? Unthinkable. That a major American broadcast network would dare to allow this reality on the air? Unthinkable.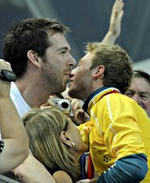 Mitcham about to embrace his partner in the stands
Mitcham himself wants to be known as more than a "gay diver"; at issue here is not whether NBC decided to pigeonhole him as such. It is rather the purposeful, systematic erasure of his sexuality from their coverage, for his story could only awkwardly at best fit into their particular brand of feel-good heteronormative discourse. What is most insidious is that erasures of this sort are often not proactively orchestrated. Again, Trouillot:
"Effective silencing does not require a conspiracy, not even a political consensus. Its roots are structural."2
We don't know who made the call—if at all—to exclude Mitcham's partner, to relegate the medal ceremony from broadcast coverage, or to silence any mention of his unique story during commentary. But that is, in fact, the crux: we won't, because there is no paper trail.
Like a series of nested dolls, the further our own particular identity categories remove us from the terrain of this discourse, the more invisible Matthew Mitcham becomes, even after his epic victory. The average gay TV and sports blogger probably knows who he is, but the average American? Probably not, because an athlete's sexual orientation is "not discussed." If this all feels like gay bloggers are making a big deal out of nothing, then that's precisely the point.
*NBC diving commentator Cynthia Potter's name was corrected from the original version of this post.
Image Credits:
1. Matthew Mitcham in the 10-meter platform final
2. What we didn't see: Mitcham on the podium
3. Mitcham after learning he won the gold
4. Mitcham about to embrace his partner in the stands
Please feel free to comment.
Trouillot, Michel-Rolph. Silencing the Past: Power and the Production of History. Boston: Beacon Press, 1995. 99. [↩]
Ibid. 106. [↩]