Ethics of Exposure
Brad Gyori / Tribeca Flashpoint Media Arts Academy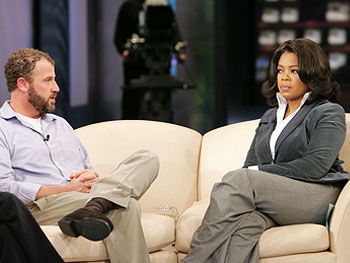 James Fry and Oprah Winfrey
Reality stars flout convention, so we may be tempted to consider their behavior merely aberrant. Yet a closer look reveals that something more complex is going on. These pseudo-celebrities are not just running amuck. They have entered into a contract with the viewing public and are deliberately fulfilling the obligations of an alternative value system.
Ethics of Anomie.
Emile Durkheim defined the condition of "anomie" as mismatch between individual and social norms and a break down of the bonds between the individual and the community. According to this definition, anomie is a kind of side effect that occurs when an individual eschews normative behavior in pursuit of a self-serving goal, i.e. robbing banks to become rich. However, by recording the actual misbehavior of real people and marketing it as entertainment, so-called "reality programming" transforms anomie into more than an unfortunate byproduct of ethical lapses. Today, it is an actual means of achieving stardom.
Andy Warhol helped popularize this trend when he began making films in the mid-1960s. His early efforts focused on static subjects: a sleeping body (Sleep, 1963), the Empire State Building (Empire, 1964), and people staring directly into the camera (Screentests, 1964-66).1
[youtube]http://www.youtube.com/watch?v=hLW_sXv44Uc[/youtube]
Edie Sedgwick: Screentest
Warhol didn't "direct" his actors. He just let the cameras roll, allowing them to write and perform their stories simultaneously. Sensing that good storytelling demands a break with routine, these proto-reality stars devised ad hoc strategies that allowed them to meet the narratological demands of their burgeoning art form. Soon, they were shooting up, having sex, shouting and slapping one another on camera.
Today, this irony-laden ethos pervades nearly all so-called "reality programming." The formula is simple: outrageous behavior = more screen time. Thus reality stars are incented to break with traditional norms in increasingly shocking ways. In such a context, pro-social behavior is commonly ignored, while anomie becomes its own reward.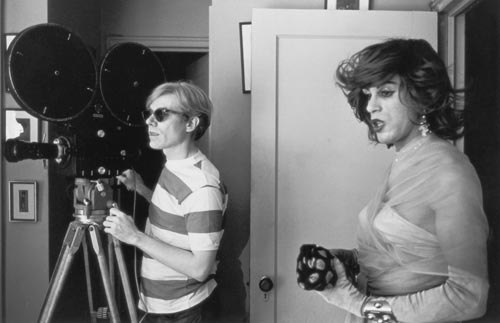 Andy Warhol and Mario Montez on the set of Chelsea Girls
Ethics of Identification.
Reality stars aren't just people, they are specific types of people, representing viewers who embody particular subject positions: white, black, male, female, straight, gay, etc. When the cameras are rolling, these individuals often sense the eyes of their peers upon them. This may impel them to take personal risks in the name of a favored social group.
In 1973 the PBS series An American Family became the prototype for the countless reality shows to follow. It was publicized as an unblinking look at the day-to-day existence of a more or less typical, upper-middle class American household, the Loud family of Santa Barbara, California. The program proved controversial, however, when twenty two year old Lance Loud, a fan of reality-genre pioneer Andy Warhol, was shown rejecting the heteronormative lifestyle of his parents and siblings, becoming one of the first openly gay "characters" on television.
Watch Preview Trailer on PBS. See more from An American Family.
Pat and Lance Loud: An American Family
While Lance was certainly a stand out, the climax of the series occurred when Pat Loud, Lance's mother, confronted her husband, Bill, about a string of infidelities and asked for a divorce. In her autobiography, Pat Loud: A Woman's Story, Pat describes herself as "too old for women's lib,"2 yet in An American Family: A Televised Life, Jeffrey Ruoff argues that, while Pat never overtly identifies as a feminist, her "character" in the documentary "was widely used as a foil to discuss general issues related to the woman's movement."3 In fact, "during the promotional tour, Pat claimed to speak for the anonymous American wife and mother: 'Every housewife I know has a story they are dying to tell but never do.'"4
Ethics of Trauma.
Reality TV and daytime talk often feature emotionally charged mediations on traumatic events. This approach conjures monsters and victims, those who have inflicted abuse and those who have had abuse visited upon them. No one escapes this process unscathed, as the monsters necessarily become victims themselves when they are subjected to public excoriation.
In 2006, the Smoking Gun website reported that author James Fry's confessional bestseller A Million Little Pieces contained fabricated plot points. This triggered a firestorm of controversy. Pundits either condemned or defended Fry's actions, but generally failed to consider what cultural forces may have influenced them. Oddly enough, the best selling author was guilty of pretending to be less law abiding and well adjusted than he actually was!
[youtube]http://www.youtube.com/watch?v=ewC-KIe5qng[/youtube]
James Fry on The Oprah Winfrey Show: Shame on Who?
In an era in which tell-all memoirs become best sellers, fabricating shameful deeds to confess makes good business sense. Publicizing a work that details such "secrets" amounts to a somewhat painful and protracted act of public contrition, but for a young novelist seeking any type of exposure, the potential payback can be substantial.
Human societies have long required ritual scapegoats, figures who affirm the validity of specific beliefs, by first rejecting them and then by paying a steep, sometimes fatal, price for doing so. James Fry offered himself up as such a figure and was both punished and richly rewarded in return. The story behind his falsified story reveals how an ambitious individual can set aside scruples and attain social empowerment by placing himself at odds with normative structures in a particularly titillating way.
After the scandal broke, Winfrey invited Fry on her show and publicly castigated him—not for engaging in the criminal behavior depicted in the book—but for failing to meet the requirements of his chosen role. He had doctored his resume, writing the type of confessional, tell-all memoir her show characteristically endorsed without having his scapegoat "credentials" in order. Heaping irony atop irony, this surreal anti-scandal proved precisely the type of high profile disgrace that allowed Fry to finally claim the status of a true tabloid star, one whose shameful secret (not having enough shameful secrets) had been revealed for the world to see. After Winfrey lambasted him, A Million Little Pieces attracted even more readers. It has since been published in twenty-nine languages and has sold over 5 million copies.
Ethics of Confession.
When reality becomes entertainment, privacy becomes unethical. The public is entitled to know everything about the personal lives of reality stars, especially the most incriminating details. This is the lesson that Jon Gosselin learned when he attempted to hide an extramarital affair from fans of the hit TLC reality series Jon and Kate Plus Ei8ht. In 2009, a scandal erupted when Gosselin was accused of cheating on his then-wife, Kate, with a 23-year-old schoolteacher. Viewers were outraged for a number of reasons. Jon and Kate had been married for ten years. They were raising a set of sextuplets along with two other children. And soon after the scandal broke, Kate was accused of having an affair with her bodyguard. Yet the biggest outrage centered on the fact that Jon and Kate initially refused to discuss the matter in the press. By keeping such an important aspect of their marriage off screen, they were violating a tacit agreement with the viewers who had made their show a hit. These two upstart reality stars were only famous because they had agreed to allow cameras to photograph their personal lives, and now they were censoring the juiciest details. Many fans considered this a serious ethical violation.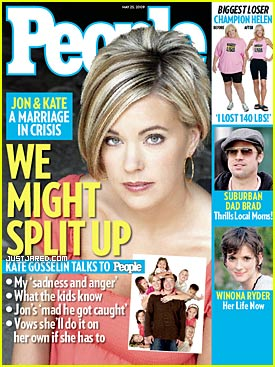 Kate Gosselin on the cover of People Magazine
For almost a month, the Gosselins maintained their silence. As the scandal snowballed, Baltimore Sun critic, Sarah Kickler Kelber criticized Jon and Kate, not for being bad parents, or unfaithful spouses, but for refusing to share enough details about their personal lives with reality TV fans. Adopting a tone of righteous indignation, she wrote, "At some point when you open your life up to the public that much, you lose control over what is public and what is private." Pressing further, she added, "It would be so much clearer if they would just say their version of what happened. This is just more complicated than it needs to be. It's not like they aren't used to sharing the details of their lives, you know? … We saw Jon's hair-transplant surgery as it happened, and Kate recovering from her tummy tuck, and the kids going through potty training. Most of that was probably too much information, but now we aren't quite getting enough."5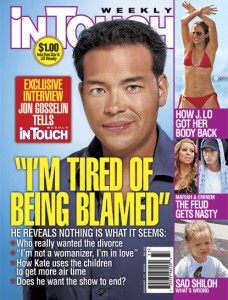 Jon Gosselin on the cover of In Touch
The Gosselins Speak: Finally!
For viewers, turning reality programming on or off is a matter of personal choice. But reality stars that wish to maintain the status of high profile public figures must offer up a steady diet of shocks on demand. This is no longer an optional strategy. It has become an ethical obligation.
Image Credits:
1. James Fry and Oprah Winfrey
2. Andy Warhol and Mario Montez
4. Jon Gosselin
Please feel free to comment.