How We Talk About Media Refusal, Part 3: Aesthetics
Laura Portwood-Stacer / New York University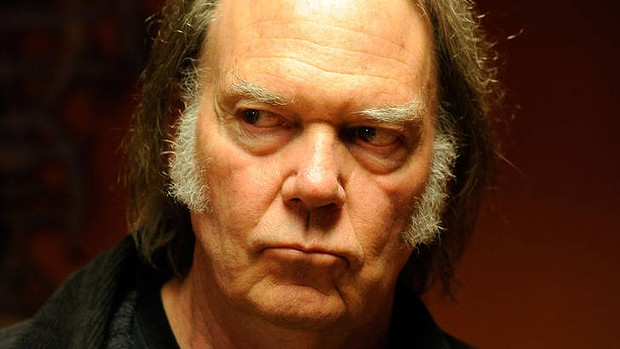 Neil Young, Aesthetics, and the Detestable mp3
People decide to abstain from engaging with certain media or media platforms for many reasons. My previous two Flow posts explored two motivations often invoked within discourses of media refusal: addiction and asceticism. People may consciously avoid using a particular form of media because they fear their current consumption practices are becoming pathological (the addiction frame) or they feel their lives and selves can be improved through non-consumption (the asceticism frame). A third justification is also sometimes offered by media refusers, which we might call the aesthetic frame.
Aesthetic justifications for media refusal are all over the place. Neil Young hates the MP3 format because he says it compromises sound quality. That's an aesthetic argument – it relies on a shared belief among Young and other "audiophiles" that more sonic information equals a qualitatively better media consumption experience. Plenty of people refuse to see films based on books they love, because they think the movie can't measure up to the quality of the book. In the realm of social media platforms, many former Myspace users claimed to have stopped using the site because its interface just got too ugly.1 These are all examples of individuals refusing some form of media for aesthetic reasons.
Refusal and taste
Aesthetic justifications for media refusal are seemingly simple, because they rely on the idea of taste, which is generally understood to be deeply personal and unmotivated. In other words, we tend to feel like having a preference or distaste for an object is something which cannot be helped—it seems to be beyond reason or alteration, and we certainly don't intend to favor one thing over another out of malice or prejudice. But, as Pierre Bourdieu's influential sociological work on taste has argued, aesthetic preferences are not as "innocent" as they seem. According to Bourdieu, preferences which feel deeply subjective are in fact structured by social background and the routines of everyday life these backgrounds impart to us (what Bourdieu termed the "habitus"). Tastes thus emerge in patterned ways among social groups, and, as a consequence, are expressive of already existing social stratifications. The perpetuation of these stratifications is masked, however, by the fact that the "aesthetic sense" is felt to be natural, given its cultivation over long periods of time and its reflection in the tastes of one's closest peers. That's precisely why taste is so effective at perpetuating social hierarchies in a supposedly egalitarian society—having "discriminating tastes" doesn't feel like actual discrimination. It's a free country, and everyone gets to make their own choices about what to consume, right?
I speculate that refusing to engage with a particular medium on the basis of aesthetics may in fact be an implicit (and even unconscious) performance of taste and status, a kind of "conspicuous non-consumption" (to invoke an idea I developed in a different context).2 Statements like "I don't even own a TV" rub some people the wrong way precisely because they seem to indict the tastes of those who do enjoy watching television. Even if that's not what the TV refuser intended, the underlying reification of taste hierarchies is what makes their aesthetic preference seem so hipstery and off-putting. It's a variation of the "I liked X before it was cool" meme: "I stopped using Y before everyone else stopped using it."

Rainn Wilson's Tweet
The aesthetic disposition
Let's back up a bit and think about what it means that people even offer aesthetic justifications for refusal of media consumption. In Distinction, Bourdieu's tome on taste and aesthetic preferences, he notes that the "aesthetic disposition" is only available to people who are assured that their "material needs" will be met. He means by this that people only begin to differentiate among things based on aesthetic values when the material functions of these objects are inconsequential. To take a basic example, a starving person does not reject a particular food because she prefers the taste of a different food. Another individual who is assured she will be well fed in any case can afford to introduce aesthetic distinctions into her selection (and rejection) process. Bourdieu, drawing on Marx, called this kind of expression of aesthetic preference the "asceticism of the privileged" which is unique to "the bourgeois experience of the world," and may be especially common among intellectuals and artists who lack economic means but still wish to assert their cultural capital.
But what would it mean to have one's "material needs" met in the realm of media consumption? Clearly, "material" and "needs" will have to be more loosely defined than if we are talking about food used to nourish the body. But media consumption does serve important practical purposes in many societies. It facilitates communication between family members, friends, and even business associates. Anecdotally, I've found that being well versed in the latest happenings on American Idol has been a great help in social interactions where I might not have much else in common with my conversation partners, particularly across lines of age and educational background. As someone with a doctorate in media studies, an aesthetic critique of American Idol would certainly be easy for me to make, but to reject the show on these terms could foreclose opportunities for making ties across social strata, particularly with those who do not share my educational "privilege." This is a reductive example, but it points to the value of exploring the potential social effects of practices of media refusal.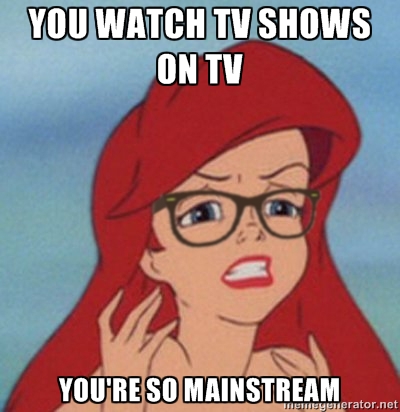 Ariel's Viewing Preferences
It's also worth thinking about how the aesthetic motivations for refusal go hand in hand with processes of technological innovation and cross-platform migrations of media content (topics explored by Michael Z. Newman and Elana Levine in their recent book Legitimating Television). Why, for example, do some people who "don't even own a TV" readily admit to liking HBO shows and desiring the ability to access HBO's television content online without actually having to subscribe to cable? Surely there are multiple factors at work here, some to do with the varying practicalities of technological formats, but some also to do with discourses of "quality television" and, yes, taste hierarchies. Examples like this also illustrate that refusal is closely related to the adoption of alternatives. It's rarely the case that consumption and communication are wholly rejected; rather, people are seeking arenas for these cultural practices that best fit within their larger set of values and routines. Studying practices and discourses of media refusal can thus shed light on what these values and routines are.
Overall, it's clear that motivations and justifications for media refusal are numerous and complex. We need to explore them further!
Image Credits:
1. Neil Young, Aesthetics, and the Detestable mp3
2. Rainn Wilson's Tweet – Author screen shot.
3. Ariel's Viewing Preferences
Please feel free to comment.
This case was fascinatingly documented by both danah boyd and S. Craig Watkins. Boyd further developed her analysis in the essay "White Flight in Networked Publics," in Lisa Nakamura and Peter Chow-White's book Race After the Internet. Whitney Erin Boesel has also recently written thoughtful analyses of related phenomena. [↩]
I also develop this concept further within the context of users' rejection of Facebook, in a longer piece, entitled "Media Refusal and Conspicuous Non-Consumption: The Performative and Political Dimensions of Facebook Abstention" (New Media & Society, forthcoming). [↩]