"It's a Very Curious English Thing": Failed Pilots for American Remakes of British Television
Iain Robert Smith / Roehampton University

The IT Crowd U.S.
In my previous column, I explored the private BitTorrent filesharing communities which share rare and unreleased media online. For my follow-up, I would like to turn my attention to a specific type of bootleg that is often shared by television fans — namely unaired pilots. Related to the interest in 'what-if' projects such as Alejandro Jodorowsky's ill-fated adaptation of Dune, these unaired pilots provide a glimpse into an alternate reality in which Joel McHale plays Roy in The IT Crowd or Craig Bierko takes on the role of Lister in Red Dwarf. As these examples would suggest, it is these failed pilots for American remakes of British television that I find particularly fascinating.
With much of the discussion of cross-cultural format adaptation focused upon the relative success stories such as The Office or Yo Soy Betty, La Fea, I would therefore like to consider what we learn from the failed pilots for American adaptations of British shows such as Spaced, Red Dwarf and The IT Crowd.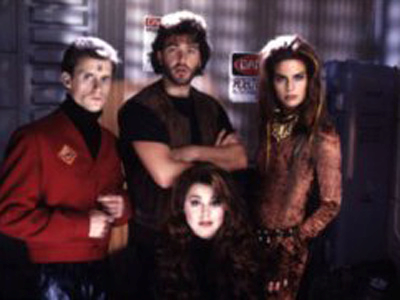 Red Dwarf U.S.
There has already been some useful academic work written on U.S.-U.K. adaptations such as Albert Moran's TV Formats Worldwide (2009), Carlen Lavigne and Heather Marcovitch's edited collection, American Remakes of British Television: Transformations and Mistranslations (2011), and the various articles and chapters that have appeared on the U.S. adaptation of The Office. Indeed, Alexandra Beeden and Joost de Bruin's article on the success of that adaptation is emblematic in that they consider "how television format adaptations work through articulations of national identity, and suggest that the success of an adaptation may be linked to its ability to reflect and interpret its new context."1 This methodological approach to adaptation as a form of translation considers the role that national identity plays in the success of a cross-cultural adaptation, with The Office often held up as an example of a British series which was successfully adapted for the American context.
Conversely, given that I am interested in shows which failed to travel across the Atlantic, the focus would logically shift onto the ways in which the failure of an adaptation can be attributed to its lack of success in adapting to the new national context. I am wary of using a comparative textual approach to establish this, however. There is a danger that I simply end up attributing the failure of these adaptations to some vague notion of Britishness (or, indeed, Americanness) that I identify in the text — an approach that runs the risk of being both reductive and essentialist. Instead, I plan to utilise the methodology used by Tejaswini Ganti in her work on Bollywood remakes2 to consider how this imagined difference is constructed by the cast and crew who worked on the U.K. series. As Ganti (herself drawing upon Akhil Gupta and James Ferguson) argues, such an approach allows us "to turn from a project of juxtaposing pre-existing differences to one of exploring the construction of differences in historical process."3
[youtube]http://www.youtube.com/watch?v=A1uTqA9jWWE[/youtube]
Red Dwarf U.S. Pilot
Perhaps the most notorious failed pilot was the 1992 attempt to make an American adaptation of the cult British science-fiction series Red Dwarf. Produced and written by Linwood Boomer — who would later go on to great success with Malcolm in the Middle — the pilot had Robert Llewellyn reprising his role as Kryten, along with a new cast consisting of Craig Bierko as Lister, Chris Eigeman as Rimmer, Hinton Battle as Cat, and Jane Leeves (of future Frasier fame) as Holly4. Response to the pilot was far from positive with even Craig Bierko later arguing that this was "a horrible Americanisation of a truly brilliant British show."5 What interests me here is not so much judging whether Bierko is correct in his assessment, but rather considering the reasons that have been put forward for this failure. Craig Charles, whom Craig Bierko replaced in the role of Lister, suggests that the failure came down to issues of national identity, arguing: "It's a very curious English thing, Red Dwarf. It's… very rooted in the British class system… Rimmer aspiring to be officer class and Lister is just a greasemonkey, sort of working class, and that doesn't quite translate to America really."6 Similarly, Chris Barrie, who played Rimmer on the U.K. series, argues that the reason for the failure was that "Lister and Rimmer are very strong English types"7, again implying that the central character dynamic is nationally specific and could not successfully translate to an American series. I am not trying to establish whether these were the actual reasons for Red Dwarf's failure to get picked up, but rather attempting to consider how these discussions construct imagined distinctions between British and American television around national identity.
[youtube]http://www.youtube.com/watch?v=YDsdBB1LUto[/youtube]
Spaced U.S. Pilot
This emphasis on nationally specific characteristics is further articulated in the response to the American adaptation of Spaced. Produced in 2008, this remake of the cult British comedy was made without the involvement of its creators Simon Pegg and Jessica Hynes. Executive produced by McG (leading some commentators to dub this version McSpaced), the pilot cast Josh Lawson and Sara Rue in the lead roles as strangers who pose as a married couple to rent an apartment. The American pilot actually followed the scripts for the first British show fairly closely, but writer Pegg felt that this was ultimately unsuccessful: "I think that the people that made it completely, utterly misread what the original was about."8 Clarifying this, Edgar Wright, who directed the U.K. series, proposed that an American remake was actually impossible for the "same reason that it couldn't be a film", arguing that "part of the charm of Spaced is [that] it's people in north London acting out stuff from American films."9 In other words, the cultural dynamic would be lost if it was actually Americans acting out scenes from American films.
[youtube]http://www.youtube.com/watch?v=SVuR4NxdaxI[/youtube]
The IT Crowd U.S. Pilot
Finally, we have the 2007 American remake of The IT Crowd. Like the Red Dwarf pilot, the U.S. producers decided to retain one of the principle cast members — Richard Ayoade as Moss — and keep much of the script of the original series. Indeed, for series creator Graham Linehan the lack of an attempt to 'translate' the series for the U.S. context was the reason for its failure. According to Linehan, "The IT Crowd is a very British show in the sense that it comes from a tradition of surreal sitcom that doesn't really have an equivalent in America. The only point in a mainstream U.S. network taking on a show like this would be to reinvent it from the ground up."10
What we have in all three cases is the suggestion that there is something intrinsically British in these shows that wouldn't work in the American context. In other words, the discourse around these failed pilots constructs certain ideas about what is distinctive about British television, such as the British class system, the tradition of the surreal sitcom, or even the cultural dynamic itself between Britain and America. Reflecting Beeden and de Bruin's assertion that "the success of an adaptation may be linked to its ability to reflect and interpret its new context," the creative team in each example are suggesting that the failure of these adaptations may be the result of a failure to sufficiently transform the show for its new context.
So, in the interest of opening this up for further discussion, I would like to end with a few questions: What do these failed pilots tell us about the distinctiveness of British television? Are these characteristics related to specific industrial histories? Can we identify these differences textually without simply reproducing essentialist and reductive notions of national identity? I look forward to discussing this further in the comments.
Image Credits:
1. The IT Crowd
2. Red Dwarf
Please feel free to comment.