The Gathering of the Juggalos and the Peculiar Sanctity of Fandom
Michael Dwyer / Arcadia University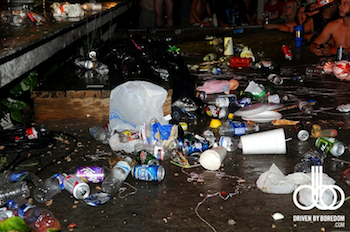 Juggalo trash thrown at Tila Tequila
Valuable work in the fields of media and cultural studies in the last thirty years has worked to reconsider the figure of the fan, rejecting reductive notions of fans as ideological dupes of the culture industry, or pathological figures of excess. The work of scholars in media studies from Stuart Hall and John Fiske to Henry Jenkins and Sarah Thornton, among many others, have shown us the way that fan practices can work to resist corporate domination, to subvert patriarchy, or to reveal potential for democratic activism. Fans have gone from pathetic and pathological to academic cause celebre. In this essay, however, I would like to sound a discordant note—not because I do not believe in the value of Aca-Fandom, but rather because I believe Aca-Fandom requires a critical self-reflexivity, particularly about the nature of "fandom" itself. To begin, I want to discuss a particularly dramatic case of fans engaging in "participatory culture," a case that deserves no celebration.
Last August, the eleventh Gathering of the Juggalos was held in Cave-in-Rock, Illinois. Psychopathic Records, the independent hip-hop label co-founded by the rap duo Insane Clown Posse, organizes the annual Gathering annually, drawing legions of fans (called "Juggalos" and "Juggalettes") from across the nation. For the past decade Gatherings have featured performances by musicians (mostly from the genres of rap, rock, and rap-rock), stand-up comedians, and professional wrestlers, not to mention carnival rides, games and contests, and late-night parties hosted by prominent members of the Psychopathic Records family.
It was at one of these late-night parties this past August that the Gathering met the national media spotlight. On August 13, the Gathering had their first "Ladies' Night" event, hosted by Psycopathic Records personality Sugar Slam and headlined by rap superstar Lil'Kim. Also scheduled to perform was model and reality TV personality Tila Tequila, who was there to promote her latest dance/hip-hop EP. As soon as Tequila hit the stage, however, she was met with a torrent of rocks, bottles, refuse, rotten food, firecrackers and human waste. One fan attempted to rush the stage, while another was subdued before he was able to toss a large trash barrel towards the performer. When security escorted Tequila offstage with multiple injuries, members of the audience pursued her, surrounding her trailer until police arrived on the scene.1
[youtube]http://www.youtube.com/watch?v=4XviWmGTa6M[/youtube]

TMZ footage of fan behavior at the Gathering
These actions can be legally in the realm of assault, of course. However, for the purpose of this essay, I would like to think about these practices as an important part of Juggalo fandom. This event, after all, is not without historical antecedent. At the Third Gathering of the Juggalos, Southern rapper Bubba Sparxxx was unceremoniously run off the stage and fans at subsequent Gatherings have unofficially bestowed "the Bubba Sparxxx award" to performers deemed to be too "mainstream," or "not down with the clown."2 Taken together with face painting, carnival games, amateur wrestling and open mic competitions, fan violence is part of the "participatory culture" of the Gathering. Inverting the conventional relationship between fan and audience, Juggalos at the Gathering shower performers with hatred, and see who can prove their worth by withstanding the assault.
Even though Tequila, with her self-promotional use of MySpace and MTV-fueled celebrity has been described as "everything [the Juggalos] hate", her performance was one of the most hotly anticipated events at the festival.3 This is not because Juggalos were particularly interested in her music or her performance, but rather because fans were anxious to witness, and in some cases participate in, fan violence. Weeks before the Gathering opened, Juggalos posted messages on Tequila's blog like "i fucking hate you and i will teach you not to come back to the gathering," "ima b the one who pegs that mainstream bitch," and "k u faggot ass fuckers i hope tila ass gets knocked out dragged in the wods and beat to a blood pulp … this is a time for juggalos not stupid lil preppy bitches and dick rideing homos."4 When Tequila finally took the stage, the misogyny reflected in the blog comments was revealed as a concerted strategy of organized and pre-planned fan response to Tequila's performance. As a steady chant of "SHOW YOUR TITS" rang out, fans revealed a banner reading "CUNT," while others hurled dildos and other sex toys to accompany the aforementioned rocks, bottles, and human excrement directed toward Tequila and her bodyguards. It is crucial, I believe, to reiterate this point: these practices are fan practices, and are integralto the pleasures enjoyed by many of the festival attendees. While it is true that many ICP fans did condemn these actions (prompting a compelling series of YouTube vlogs of online Juggalos reflecting on violence against women), still others emerged to celebrate the actions as "awesome," and insist that Tequila's injuries were fabricated.5
[youtube]http://www.youtube.com/watch?v=2zAdAey9XLI[/youtube]

Crazed fan attempts an on-stage assault of Tila Tequila
The fact that some fan practices are repugnant is not, I am certain, news to anyone. Yet, there has been a peculiar framing of fan practices as inherently admirable, or at least deserving of respect, throughout recent scholarship on fandom. In a blog entry introducing the pre-publication version of "On Dislking Mad Men", Jason Mittell prefaces the text by saying, "I tied myself in knots trying to avoid letting my dislike for the show come across as a disdain or judgment of its fans – I hope that anyone commenting here aims for the same respect toward those whose taste differs from yours."6 In the essay itself, Mittell goes to great lengths to assure his readers that he is not in any way attempting to disrupt fans' pleasure, or implicate them in his critique of the show. What I find interesting to me about Mittell's disclaimer is the degree to which he views others' fandom as delicate and precious, not to be disturbed by the dissenting voice. Just a few weeks prior, Jonathan Gray published a blog post regarding the finale of Lost titled "Don't Picket the Funeral," in which he wishes that those critical of the finale would, out of respect, allow for "a short mourning period for fans of a show once it's over." 7 The implication, of course, is that a show's finale is akin to the death of a loved one, and that, in polite society, one does not speak ill of the dead. In pointing to these moments, it is not my intention to single out these essays, or these authors, for critique (I admire and respect the work of both Gray and Mittell, and their scholarly treatments of fandom are nuanced and sophisticated). Rather, I want to draw attention to the way that, in these specific moments, these authors position fandom as a concept that must inherently be respected and revered. In the long tradition of media studies, it would seem, fandom has gone from the profane to the sacred.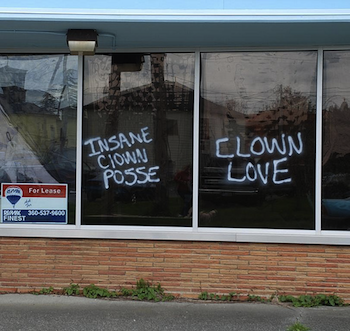 Should all acts of fandom be celebrated?
Henry Jenkins' notion of the "Aca-Fan" has been vital in helping media studies bridge a mythical divide between our affective and intellectual engagements with texts. In his comment-debate with Ian Bogost, Jenkins argued that aca-fandom provided a methodology "which acknowledges and explores our emotional connections to popular culture and the way it functions as a resource in our everyday life."8 The call for honestly and self-reflexivity, I'd like to argue, is profoundly needed in media scholars' engagement with the status of fandom itself. That is to say, as academics and as fans, we ought to seriously interrogate our investment in the social, political, and cultural potential in "fandom," and recognize that we ourselves are predisposed to believe that empassioned engagement with cultural texts is valuable, laudable, and politically useful. As the the violent and misogynist attendees of the Gathering remind us, it ain't necessarily so.
Image Credits:
1. Driven by Boredom
2. Norhwest Gangs
Please feel free to comment.