Coming to a Beach Near You! Examinations of Ethnic and State Identity in Jersey Shore
Jon Kraszewski / Seton Hall University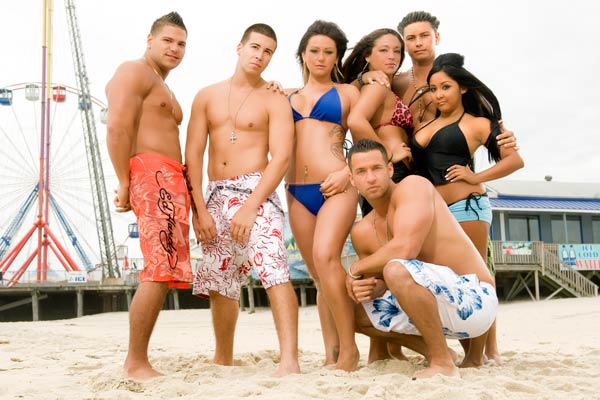 The Cast of Jersey Shore
Before the economy tanked, before unemployment soared, before all the homes got foreclosed, before Madoff got busted, reality TV told us to spend money. Buy expensive real estate. Remodel homes. Become entrepreneurs. Flip houses. These were the mottos of some of the most popular reality series. Life was good. Flipping Out's Jeff Lewis, The Apprentice's Donald Trump, and Flip This House's the Montelongos became icons of wealth and models for economic success during a deceptive boom period for the American economy. Now that the economy has tanked, reality TV producers are adjusting their strategies to bring in audiences, and some series are offering cautionary tales. Flipping Out has quickly transformed itself from a series about Jeff's Lewis's ability to make millions to his quest just to make ends meet now that he can no longer flip houses.
In this climate, along comes Jersey Shore, a series about eight self-identified guidos and guidettes in their 20s who spend their summer in Seaside Heights, New Jersey, and manage to hook up and/or punch someone's face in almost every night. Cultural critics tell me that the series has no resonance with our current economic climate. Some, such as New York Post's Linda Stasi, insist that I should hate this series for its offensive portrayal of Italian Americans.1 Others, such as Entertainment Weekly's Tim Stack, argue that that I should embrace Jersey Shore because it is "silly television . . . and by that measure, Shore is phenomenal."2
Popular discourse surrounding Jersey Shore fixates on the cartoonish version of Italian American identity on the series; currently critics seem stuck on whether or not we should take pleasure in this cartoon. If you haven't seen the series, it is, admittedly, silly. Check out the original trailer for the series.
[youtube]http://www.youtube.com/watch?v=ru7FLCwlStE[/youtube]
Apparently Italian American identity can be reduced to blowouts, poufs, tans, and ripped bodies that look like Rambo's. I don't disagree with Linda Stasi and Tim Stack (Snooki and The Situation make me laugh and roll my eyes at the same time). I just think issues of culture are more complex in the series.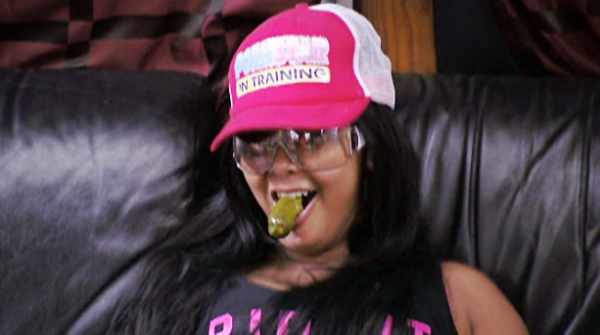 Making Sense of Snookie is a Pickle
The cartoonish nature of Italian American identity on Jersey Shore becomes more troublesome and cautionary when we consider the interplay between place—the fact that the series is shot in New Jersey—and ethnicity. What does it mean to shoot such a ridiculous series in the state of New Jersey? New Jersey consistently ranks as one of America's wealthiest states, often coming in at number one. For a long time it has had the highest property taxes in the country, although New York might take the title away from New Jersey soon. If you aren't familiar with the real estate market in the state, tiny bulldoze specials in northern Jersey start at well over $300,000 and have yearly property taxes between $7,000 and $17,000. If you are looking to live lifestyles with middle-class markers (newer four-bedroom home in good repair, garage, nothing spectacular), you better be ready to shell out $500,000 to $1,000,000 and have a small fortune saved for your property taxes. Because of the high cost of living, crowded roads, and large commuter population in the state, auto insurance often costs three times as much in New Jersey as it does in other places. Given this, New Jersey, much like New York and Massachusetts, is losing population each year. While these areas have always had high costs of living, many who live or have lived in the areas speculate that the regions are becoming available only to the extremely wealthy. (This is a popular thought where I live in eastern Pennsylvania, which is filled with people who have left Jersey for economic reasons.) While many "middle class" neighborhoods in Jersey actually were affordable to the middle class before the 2000s, property taxes are moving out residents who bought before the housing market soared in the previous decade. We need to consider this when evaluating the way ethnic identity functions in Jersey Shore.
Sports studies has done a nice job examining the state of racial and ethnic identities in gentrified spaces, and that field might offer us a lead in thinking through Jersey Shore. Daniel Rosensweig examines the way the planners of Jacobs Field in Cleveland leveled a poor African American neighborhood in the city to create a gentrified space for well-off whites to come to the inner city; experience sanitized, cartoon portraits of black culture; and have little to no interaction with actual African Americans. Rosensweig looks at how sanitized memorials to African American athletes replace actual African American culture and residents in the area, and he investigates how park security prohibits poor black residents of the city from entering this space.3
Could we not say something similar about the way Italian American identity functions in a state such as New Jersey, which is driving more and more long-established residents away? As states such as New Jersey become less affordable to the middle and lower classes, they are seeing populations in areas with long-rooted ethnic cultures uplifted and relocated to other states. I think we will see more ethnic traditions and a genuine appreciation of their meanings lost in years to come in these areas. What will take their place?
Perhaps the cartoonish notion of ethnic identity that we see on Jersey Shore will. The cast is merely a bunch of Italian American stereotypes ripped from an understanding of historical ethnicities. With his Rambo-like physique, The Situation might be, to quote a line from The Incredible Shrinking Man, "The Man of the Future." Because the current economy is moving populations in the Northeast to regions, any preservation of culture could unfortunately be on the level of a cartoon.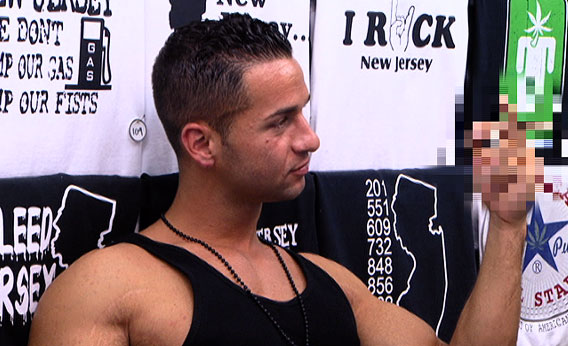 Might There Be a Situation in All of Jersey's Area Codes?
Jersey Shore is more accurately a fantastic tale about the state of ethnic identity in gentrified spaces of the Northeast than it is an offensive portrait of Italian Americans or a delightful show of mindless entertainment. Jeffrey Sconce notes that reality TV is a fantastic genre, one that questions the very basis of reality and interrogates important social issues.4 In Jersey Shore, we see Italian Americans and New Jersey, but something seems to be off. While I am sympathetic to those who wish to stop these arguably hurtful images of Italian Americans on the series, I hope that critics will eventually broaden their perspectives and see Jersey Shore as a cautionary tale about ethnic identity in an increasingly gentrified Northeast. Rather than simply shut down the images of Jersey Shore, wouldn't it be better actually to watch Jersey Shore, fearing it could be a dystopian vision of ethnicity in the future if current economic trends continue. Wouldn't it be better for us to fight the socioeconomic conditions that could reduce ethnic identity to a series of cartoons, devoid of any cultural heritage, in gentrified spaces?
If not, then the cast of Jersey Shore could be the men and women of the future. If no one really cares to fight this larger socioeconomic problem, perhaps we should learn to do our hair like DJ Pauly D.
[youtube]http://www.youtube.com/watch?v=SQDma1E9GoM[/youtube]
Image Credits:
1. The Cast of Jersey Shore
2. Snookie
3.The Situation
Please feel free to comment.