Move over Marshall McLuhan! Live from the Arctic!
by: Faye Ginsburg / NYU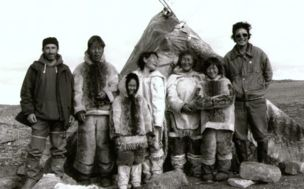 Igloolik crew
Despite Canada's longstanding concern that it is on the periphery of the U.S., it seems to be in the avant garde of certain kinds of media theory and practice that have much to teach us. Canadian media scholars such as Marshall McLuhan addressed the sensory, temporal, and spatial regimes elaborated by various media forms, while the political economist Harold Innis cautioned us to be wary of the speed of electronic communication and its capacity to centralize cultural and political power. The development of projects at the National Film Board of Canada such as Challenge for Change in the late 1960s, shifted the paradigm, recognizing the possibilities of small format, easy-to-use portable video (then in its early years) to put cameras into the hands of Canada's marginalized others. Over the 1970s, as satellite-based television made its way into the Canadian Arctic, Inuit people began exploring the possibilities that these combinations of media forms offered for local productions that could be distributed over the vast expanses of Canada's north. Zacharias Kunuk, a young Inuit man at that time, had the vision to turn these technologies into vehicles for cultural expression of Inuktitut lives and histories, forming a media production group called Igloolik Isuma, turning his friends and family members into a remarkable team of non-professional actors who recreated the stories of the transformations of their own lives over the last century, starting with works such as Qaggig in 1988, and quickly moving on to create the remarkable series entitled Nunavut, which is also the name of the recently formed Inuit-controlled territory where Zach's home settlement is located. The series Nunavut was a staple not only of TV Northern Canada (the pan-Arctic satellite station that preceded the current first national indigenous cable television station, Aboriginal People's Television Network) but which also screened at MoMA in New York and the Pompidou Centre in Paris.
Fast forward to 2001, and the premiere at the Cannes Film Festival of Kunuk's first feature, the epic recreation of a well-known Inuit legend, Atanarjuat: The Fast Runner at the Cannes Film Festival; there, this first film ever made in the Inuit language of Inuktitut, received the coveted Camera D'Or award for best first feature, and went on to stunning critical and theatrical success, picking up many more awards along the way. Now Kunuk and his crew are busy shooting their second feature, a Danish co-production entitled, The Journals of Knud Rasmussen, based on the writings of the famous Inuit-Danish explorer who traveled throughout the Arctic in the 1920s exploring the transformations of Inuit life that were occurring in the early 20th century, when Inuit shamans first encountered Christian missionaries. The journals provide the story line for a film that provides an Inuit perspective on that fateful historical encounter. But never content to think conventionally, Kunuk and company have established an incredible web site from the film's production location, that allows us to follow what's happening on the film set on a daily basis, while also sending us back to Rasmussen's journals, and the key characters he met in his journeys through the Arctic. Daily blogs by an "embedded" journalist and (of course) their own anthropologist, provide different perspectives, while quick time movies show us how multiple languages (English, French, Inuktitut, Danish) are negotiated, as well as how props and food are managed in this remote Arctic locale. Pop ups offer a linked glossary for foreign or more arcane words. Background bios on key personnel – on and off screen – illuminate the community-based approach to filmmaking that Kunuk and his partner Norman Cohn have perfected. (My personal favorite is the interview with the lead sled dog, Tooguyuk who "describes" the trials of learning commands in both "Greenlandic" and "Igloolik", and talks about looking forward to his "girlfriend having puppies so I'm excited to be a daddy")
The site is beautifully designed in every sense, and presents a remarkable demonstration of how this technology can be successfully "indigenized" (to pick up a theme from the last column I wrote) to help Inuit school kids, college students in New York, Maori colleagues in New Zealand, and many others, learn about their filmmaking, the Arctic, indigenous lives, missionization, and new ways of "understanding media" and its possibilities in the 21st century.
I recently interviewed Katarina Soukup, website producer, about the project and its origins.
Isuma has wanted for a long, long time to use the Internet to connect the remote Arctic with people around the world, a way to bring people to Igloolik without the extreme expense and inconvenience of traveling here, as well as to allow Inuit to remain in their communities and out on the land without losing touch with the 21st century. One dream is a nomadic media lab/TV station out on the land connected to the Internet. It just has not been technically possible until now. When we go to the remote outpost camp this weekend to shoot exterior scenes, we will still be uploading reports to the website, thanks to a high-speed data satellite phone. And when wireless broadband is launched in Nunavut (anticipated next month), this kind of remote, nomadic computing will be much less expensive.
What are the project's goals?
The goals with the educational website are to connect people to Inuit culture through the Internet and our films. We have been creating materials for the educational market for about 2 or 3 years (e.g. the Isuma Inuit Culture Kit), and the site is another step in this direction. The Rasmussen micro site and the live from the set are building blocks of a large site that will be launched in fall 2005. The website targets youth ages 12 and up, as well as their teachers and parents. The project employs an innovative technical infrastructure to deliver to the world priceless Inuit cultural content, such as interactive e-learning activities, video-on-demand, customizable teacher resources, and Inuktitut language lessons. It will be a platform for North-South communication and collaboration. In addition to educating the public about Inuit culture, another goal of the site is to develop a youth and educational market for our films.
When Atanarjuat came out, so many people asked us "how did you make this film in the Arctic?!". So, for the LIVE FROM THE SET component, we wanted to invite the world to be our "virtual" on-set guest and experience (as much as possible) the process of making a film in the high Arctic with an Inuit production collective.
Who funds this work?
The website is financially supported by Telefilm Canada's New Media Fund, Government of Nunavut (Dept of Sustainable Development), Nunavut Community Economic Development, Heritage Canada (Canadian Studies Program), National Research Council (Industrial Research Assistance Program). NITV (Nunavut Independent Television Network) is a collaborating partner. We also have sponsorships from Ardicom Digital Communications, SSI Micro, and Stratos Global Corporation.
Who are the producers of the site?
We have a team in Igloolik and Montreal. In Montreal, our production manager Natalie Melançon is coordinating our graphic designers, programmers, and integration specialists. In Igloolik, I'm coordinating the team of reporters, which does the daily coverage. In Igloolik, the team is made up of about 9 members: 3 videographers, 1 audio reporter, 1 photographer, and 3 writers who do the daily blogs. Most of our team is from Igloolik, including 8 youth trainees from the community who are learning about media production while we make this website and feature film.
Note: Atanarjuat and other 23 feature films by indigenous directors will be part of First Nations/First Features: A Showcase of World Indigenous Film, a groundbreaking showcase at MoMA in New York City and the Smithsonian's National Museum of the American Indian in Washington D.C. beginning May 12, 2005. For schedules and further information please visit First Nations First Features.
Image credit
1. Igloolik crew
Links
Atanarjuat: The Fast Runner
First Nations First Features
Igloolik Isuma
The Journals of Knud Rasmussen
The Journals of Knud Rasmussen: Live From the Set!
Please feel free to comment.